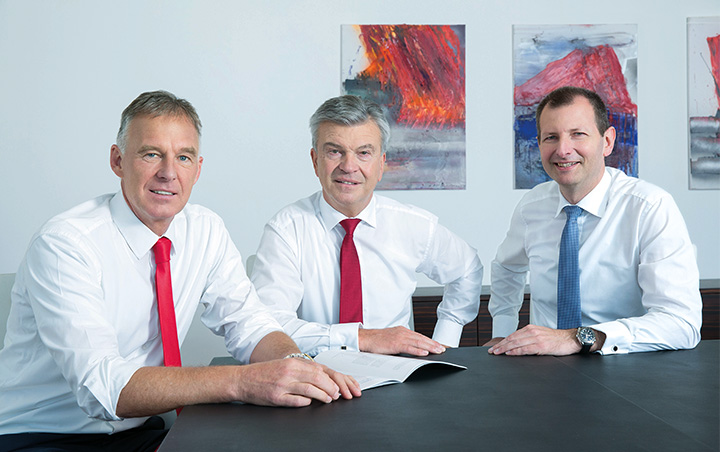 Stability and security of supply have always been among Energie AG Oberösterreich's key strategic imperatives. Having now spent a number of weeks in the powerful grip of the COVID-19 public health crisis, it is our duty to go above and beyond in upholding these principles. Keeping our critical infrastructure running under all circumstances is a top priority, especially in exceptional situations like these. This requires a reliable, uninterrupted supply of power, water, data and waste disposal services to our region, leaving minimum room for error. Thanks to our established methods for crisis management and the dedication shown by all our employees, the entire group of companies has been able to carry on with its key priorities throughout this period. This has underlined our credentials as a source of reliability and stability in Upper Austria and beyond.
Since history does not offer any ready-made parallels for this situation, every forecast about the effects of the COVID-19 crisis is riddled with uncertainty. The shutdown of the economy and social life in Austria has led to drastic short-term changes in the area of production, as well as changes in people's behaviour in both private and professional settings. This, in turn, has reduced demand for electricity and gas from Energie AG Oberösterreich's customers since February. In response to this situation, the main risks were rapidly identified and evaluated on a group-wide level, allowing us to draw up a suitable plan of action.
In the first half of the year, we have been close to meeting our sales targets, although the initial, smaller-scale effects of the health crisis on income have become apparent. We were able to boost sales revenues to EUR 1,107.1 million, a 12.7% increase over the same period last year. This upward trend is largely due to sales having been fully consolidated for the first time. At EUR 77.1 million, however, operating result is significantly lower than during the first half of last year. This is mainly a result of impairments in the Energy Segment, where reversals of impairment were recorded last year. Last but not least, the current situation in the electricity market is also playing a role in the downturn.
This year, as in previous years, rating agency Standard & Poor's affirmed our "A (with a stable outlook)" rating. As well as acknowledging the direction we have opted to take as a business, this rating also confirms the Group's stability in these turbulent times.
More than a year ago, the Group completed the implementation of its corporate structure, which had previously undergone optimisation. At that time, the Group faced some major challenges stemming from the reorganisation of our sales and generation business, as well as from the merging of our activities in the Czech Republic. A year on, the synergy and efficiency gains are clear to see. Our sales operations follow a "one-stop shop" approach, offering a wide range of product bundles for electricity, gas, heating and telecommunications services. Our customers were the major beneficiaries of this consolidation right from the outset, receiving even better service from a single company.
The enthusiasm for transforming our energy system in the direction of renewable energy production has been further strengthened by the European Green Deal and Austria's goal of achieving climate neutrality by 2040. The sudden outbreak of COVID-19 may have changed the focus of political action in the short term, but the challenges associated with the transition to clean energy will not become any simpler in the near future. Enormous investments will be required to achieve these goals. The renewable generation capacity we need will have to be built, while the necessary reserves for stable grid operation will still have to be provided. The replacement of the hydropower plant in Dürnau is an important step for Energie AG when it comes to improving the efficiency available from our existing hydropower potential. In addition, implementing the Electricity Grid Master Plan will make it possible to meet the growing demand for higher transmission power levels as well as higher supply quality and stability.
While the fiscal year to date has predominantly been characterised by an unusually mild winter, the storms in the spring required numerous call-outs to deal with disruptions. The high-voltage grid once again proved to be the backbone of a stable electricity supply.
As the result of a serious explosion and subsequent fire at the Hörsching site, the equipment at the plastics sorting plant saw heavy damage and was largely destroyed. Despite this sudden and unexpected turning point, the collection of various plastics from customers was able to continue unhindered due to a series of short-term adaptation measures.
As we have already alluded to several times, COVID-19 has presented a whole host of challenges for our organisation and our staff. When shifting towards working from home, we have been able to benefit strongly from our leading role in digitalisation, which allowed us to make an almost seamless transition to telework virtually overnight. But were it not for our motivated and committed workforce, we would not have been able either to achieve our strategic goals or to overcome the operational challenges of crisis and emergency management. We would therefore like to thank each and every member of staff for the highly professional way they have taken responsibility so far in these difficult times. This dedication is directly reflected in the response we have seen from our customer base.
Linz, 29 May 2020
The Management Board of Energie AG Oberösterreich
Chief Executive Officer
DDr. Werner Steinecker MBA
Chairman of the Management Board
CEO

Dr. Andreas Kolar
Member of the Management Board
CFO

Dipl.-Ing. Stefan Stallinger MBA
Member of the Management Board
COO